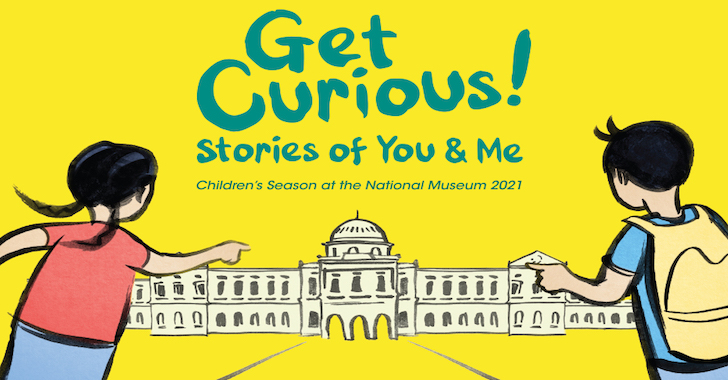 Fun-filled activities at National Museum of Singapore
This year-end, the National Museum of Singapore is offering a slew of engaging and fun-filled activities for the young and the young at heart.
03 December 2021 - 31 March 2022
National Museum
Fun-filled activities at National Museum of Singapore
Still not ready to travel? Fret not! This year-end, the National Museum of Singapore is offering a slew of engaging
and fun-filled activities for the young and the young at heart. From discovering exciting stories of artefacts in the galleries, to reliving fond memories at the museum's mini amusement park, and joining Otah & Friends in a forest adventure, there's something for everyone!

1. CHILDREN'S SEASON AT THE NATIONAL MUSEUM 2021: GET CURIOUS! STORIES OF YOU & ME

20 Nov – 26 Dec | Recommended for families with children aged 3 to 12 years, and grandparents too!

Get ready for fun-filled school holidays at the National Museum! Get Curious! invites families – children, parents and grandparents – to explore our galleries and discover the exciting stories of our artefacts. Titled "Stories of You & Me", this edition of the festival also invites different generations within the family to exchange stories and experiences with each other!

Installations & Showcase
Our Home and Our School


20 Nov – 26 Dec | 10.15am – 5.45pm daily (30-minute slots for each installation, 12 pax per slot)

Glass Atrium, Level 2 | Free, but $10/pair deposit collected upon registration | Recommended for age 3 – 12
What was it like growing up for children in the past versus the children of today? Visit our specially created installations to explore how home and school experiences have changed over the years. Play games, write to a special senior pen pal, design yourdream uniform and more in this interactive experience for the whole family!

Inter-generational Showcase: Our Home – Singapore


20 Nov – 26 Dec | Glass Atrium (beside the "Our Home" installation), Level 2 | Free

What is "Singapore" to our seniors and children? Visit our showcase of artworks created as part of a virtual inter-generational programme! Inspired by conversations on selected museum artefacts covering topics related to Singapore's identity and housing in the 1970s and 1980s, seniors and children designed their own currency notes and co-created mini HDB flat dioramas together with artist Joanne Lio.

Our Childhood


20 Nov – 26 Dec | Outside Growing Up gallery, Level 2 | Free

Have you ever played with a wind-up toy or a gasing? Spot four big standees featuring popular children's toys from the 1950s and 1960s. Reminisce about the good old days by taking a photo with the standees!

I Spy


20 Nov – 26 Dec | Canning Office, Level 2 | Free

Stop by this cheery mural featuring 12 of our favourite old-school games. Can you name each of them? (Psst... If you need some help, the answers are in the mural itself!)

Otterly Famtastic Day Out at the National Museum! Video + Museum Roundtable "Fantastic Critters'' Activity Booklet


20 Nov – 26 Dec | On loop from 10am – 6pm (Video duration: 2.5mins) | Donor wall, Level 2 | Free

Meet Dennis the playful otter and his parents, and find out how to have a wonderful family day out at the museum! Plus, pick up a copy of the Children's Season 2021 "Fantastic Critters'' activity booklet produced by the Museum Roundtable (MR), complete the National Museum's activity based on our Otterly Famtastic video, and redeem a unique "Fantastic Critter" sticker at our Redemption Counter (The Platform, Level 2). Collect all 15 critter stickers at participating MR museums and stand to redeem a limited-edition prize!

"Dear Senior,": A Digital Inter-generational Pen Pal Corner


From 20 Nov

In this specially curated digital showcase featuring questions posed by children to their senior pen pals, find out what life was like for our seniors when they were young! The link to the showcase will be updated here on 20 Nov.

Click HERE for more information

2. NEW, GREAT & HAPPY: AMUSEMENT "WORLDS" OF SINGAPORE
Digital Amusement Park


4 Dec 2021 – 9 Jan 2022

The three venues - New World, Great World and Happy World (renamed in 1964) - played an important role in shaping the social life of the local community and popular culture of Singapore in the pre- and post-war decades. Explore the National Museum of Singapore's Digital Amusement Park and learn some interesting facts about these 3 playgrounds for the masses from the 1920s to 1980s.

NMS Amusement Park: Digital Quest


4 Dec – 9 Jan | Life in Singapore galleries
*Admission to the Life in Singapore galleries is free for Singapore Citizens and Permanent Residents, and children 6 years and below (any nationality).

Go on a quest in the museum and discover fun facts about the artefacts featured in our galleries. Look out for the campaign standees, located around the museum, and scan the campaign image to start your quest. Complete all 5 galleries to redeem a free carnival game ticket with your reward code. Limited to 1 reward code per account per day. Reward code will be valid only for 7 days. Redemption is limited to the first 80 redemptions per day, on a first-come-first-served basis.

The National Museum's re-created Amusement Park



4 Dec – 9 Jan | time | Stamford Gallery | Free admission with pre-registration, visit go.gov.sg/newgreathappy for more details and to pre-book your slot

Step into the world of classic amusement park games and rides, provided by local carnival veteran Uncle Ringo, at our re-created mini amusement park located in the Stamford Gallery, as you learn fun facts about amusement parks in Singapore in the 1920s to the present.

Click HERE for more information

3. FAMILY-FRIENDLY RESOURCES
Get Curious! The Official Interactive Family Guide to the National Museum of Singapore


Recommended for ages 5 – 8 | Available for sale at Supermama,the Museum Shop on Level 1

Our interactive guide for children and families supports your museum visit and presents information on our galleries and collection in a fun and accessible manner, through various interactive elements across 116 pages.

Early Learning Resources


Recommended for ages 1 – 6 | Available for sale at Supermama, the Museum Shop on Level 1

Visit our permanent galleries and play spot-the-artefact! Our Early Learning Resources introduce pre-schoolers to our artefacts according to the themes of Alphabets, Numbers, Colours, Shapes and Opposites!

#MuseumfromHome: Get Curious!


Recommended for families with children aged 1 to 10 years

A timeless repository of online resources and programmes developed by the National Museum for families to enjoy the #MuseumFromHome. Gather materials around the house and follow our craft video tutorials to make your own toys, engage in music and movement activities inspired by our Early Learning Resources, and more.

Click HERE for more information

4. OTAH & FRIENDS: CAMP STARDUST​



Otah & Friends is a family entertainment brand featuring original characters inspired by Singapore's wildlife. Following three successful runs at Gardens By The Bay and Suntec City, Otah & Friends is back with its fourth edition – Camp Stardust! A forest adventure awaits you at Camp Stardust! Complete exciting challenges and navigate mazes with Otah, while collecting courage badges to become a Stardust Scout! Keep a lookout for our new character Sambal, who will be making his debut! Look forward to elaborate multi-room sets, imaginative storytelling and interactive game technology, designed to encourage family bonding and to introduce values education through play.

Details
Date: 15 Nov 2021 – 20 Mar 2022 | 55 minutes per session
Time: During school holidays season: 10am – 7pm daily
Outside school holidays season: 1pm – 7pm on weekdays(closed on Tuesdays), 10am – 7pm on weekends & public holidays
Location: Exhibition Gallery, Basement Level
Price: $24 per pax for a regular ticket (2 – 4 pax)
Suitable for all ages, but please note that children under the age of 12 will require an accompanying adult

Get your tickets HERE

5. MERCHANDISE​
Happy World Collection



Enjoyed your time at the NMS Amusement Park? Don't forget to check out the exclusive Happy World Collection at Supermama The Museum Store @ NMS! Happy World was one of three amusement parks built in Singapore before World War II from the 1920s to the 1960s. It was a favourite destination for Singaporeans of all ages where it featured a variety of entertainment including cabaret, operas, movies, gaming, fun rides and shopping. Inspired by this destination, Supermama presents a new Happy World where our beloved elephant and hippopotamus (in our original logo) are personified into characters, and where they together with their group of animal friends have
a whale of fun at the theme park. Happy World by Supermama is a reminder to all to let your hair down and have fun this holiday season!
Location:
National Museum