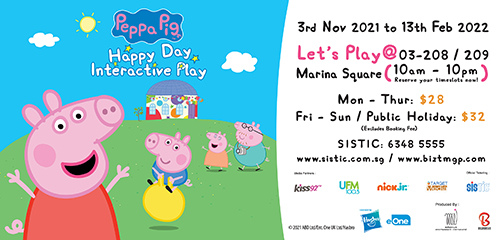 Peppa Pig Happy Day Interactive Play – Singapore
<Celebrate Friendship with Interactive Fun>
01 October 2021 - 13 February 2022
Peppa Pig

Peppa Pig, the pre-schoolers' superstar is coming to Singapore this November!

Special Discounts - 2 weeks only!
Special 10% discount on ticket purchase, apply promo code: SAP at https://www.sistic.com.sg/events/pig0222

Promo Code: SAP
Duration Period: 1st Oct to 14th Oct 2021

Featuring a multitude of activities Peppa Pig Happy Day Interactive Play - Singapore.
We visit where Peppa lives, filled with good memories and laughter. Finding the keys to happiness and joy and create unforgettable memories. "Family Celebrations" remains true to Peppa's core values –"Togetherness" & "Happiness"

Jump into the World of Peppa Pig, from the soft play area to the countryside, from the garden to the city, recreating the classic scenes from the animated series and featuring three-dimensional character statues.
Numerous of themed interactive video projections activities bring to life the world of Peppa Pig like never before: jumping in muddy puddles, participating in running competitions and watering the plants in the garden, etc. Those will spark the imagination of your little piggies: Jump, laugh, play imagine and giggle! Importantly, meet and greet by Peppa or George in their lovely living room.
Visit peppapigasia.com for more Peppa information.
Show Details
Date:
3 Nov 2021 - 13 Feb 2022
Time:
10am - 10pm
Location:
Marina Square Level 3 #03-208,209