2022 March Holiday Programmes And Activities
04 March 2022
Announcement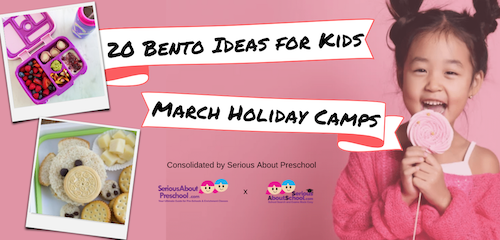 We have consolidated all the March holiday programmes and activities to help keep your children busy meaningfully this school holiday!
Looking for March School Holiday Activities?
Check out our list below!

A) HOLIDAY PROGRAMMES & CAMPS
Keep your child entertained in a productive way this March Holiday! Our Holiday Program are gamified, scaffolded and aligned with SG MOE's syllabus.

Learning outcomes:
Preschool: Introduction to Hanyu Pinyin
Learn the consonant, vowel and intonation of Hanyu Pinyin

​Learn vocabulary and sentence structures related to 3 themes
P1 – P2: Improve oral skills
Learn the vocabulary and sentence structures to describe and articulate on the given scenario clearly and coherently.

​Answering techniques and guiding template, unique to LingoAce, will also be taught.
P3 – P6: Improve comprehension skills
Learn answering techniques for different question types. Answering steps, unique to LingoAce, will also be taught.
Details
Date: 12 March - 20 March 2022
Location: Online
Age: For Preschool & P1-P6 Students
No. of classes: 4
Duration: 25min/lesson for Preschool, 55min/lesson for P1-P6

Sign up your interest HERE
Nullspace Centre for Robotics Learning offers a variety of programmes for kids between ages 6 to 16. Here's a list of holiday programmes suitable for beginners to get you started:

Details:
a. STEM Little Explorer Programme (Ages 6 to 8)
March Holiday Special Class
4pm to 6pm (2 hours x 4 sessions)

Have a taste of what the weekly STEM Little Explorer Programme is like! In this 4-day programme, explore a variety of Robotics & Coding platforms from LEGO robotics to Scratch Game Creation, 3D Pen Printing & more!

b. Robotics Certificate Programme using LEGO® Education SPIKE™ Prime (Ages 9+)
Beginner 1 Level Classes (1x Foundation + 3x Practice Sessions)
9.30am to 12pm (2.5 hours x 4 sessions)

Build and program LEGO robots with the latest LEGO® Education SPIKE™ Prime set. Learn about the foundations of basic motor movement control and explore building autonomous robots with the use of various sensors through fun missions.

c. Inventor Certificate Programme (Arduino Microcontroller) (Ages 10+)
Intro to Arduino using S4A
9.30am to 12pm (2.5 hours x 4 sessions)

Ever wonder how remote controls, traffic lights, and smart homes work? This course will introduce you to the world of electronics through the use of the Arduino Microcontroller with Scratch-based programming. Learn to create your own electronic projects, with simple components like LEDS, buzzers and potentiometers.

d. Robotics Engineer Programme (LEGO® MINDSTORMS® EV3) (Ages 9 to 12)
Project Athletics
1pm to 3.30pm (2.5 hours x 4 sessions)
Holiday Exclusive Programme. Only available at Rochester Mall Branch

Explore creative LEGO building with the popular LEGO® MINDSTORMS® EV3 set. Develop your creativity, problem solving skills and spatial awareness through fun and engaging themed project builds. Students will be exposed to basic programming blocks to bring their builds to life!

e. Minecraft Education Coding Programme (Ages 9 to 11)
Learn to Code with Minecraft
9.30am to 12pm (2.5 hours x 4 sessions)
Holiday Exclusive Programme. Only available at Rochester Mall Branch

If your child loves Minecraft, this course is perfect for them! Be introduced to the world of coding through Minecraft Education. Learn block-based coding to control your character and interact with the surroundings.
‍
Dates: 14th to 17th March 2022, Mon to Thurs
Timing: 9am to 12pm/ 4pm to 6pm

Contact details
Email: c4rl@nullspace.com.sg
Contact: +65 9855 4017

REGISTER NOW

3. Chattering Kids
Worried about your child's oral exam? Want to grasp language and communication skills? Join Chattering Kids for a 1 to 1 Chinese and English online oral classes and learn at the comfort of your home this March Holiday! Chattering Kids is an online creative learning platform that offers English and Chinese Oral and Communication Classes for Primary 3 to 6 Students. Our curriculum is carefully crafted and designed by experienced teachers in Singapore, incorporating the integral part of the Oral Exam components based on the MOE syllabus and actual PSLE questions.

a. Primary 3 - 6 Chinese Oral And Communication Online Classes 在线课堂 . 小三 - 六口试 (MOE Syllabus)



Worried about your child's Chinese Oral Exams which comprises 25% of the overall Chinese scores? It is never too early to expose your child to daily conversational practices before your child can speak fluently at her/his Chinese Oral exam!

b. Primary 4 - 6 English Oral and Communication Online Class (Actual PSLE Questions)



Do you know that the oral component is 15% of the total English Exam score?
Details
Price: $200 for 5 days (book 2 subjects: 10% discount)
When: 14 - 20 March (preferably same timing across 5 days)
Location: Online
Lesson Duration: 1 hour
Limited slots available, email onlinespeechdrama@gmail.com in the following format to book your slots now!
Parent's Name:
Child's Name:
Child's Level:
Preferred dates and timings:
Subjects:
Jelic Free Trial
Whole Brain Development Program (3 to 6 years old)
JELIC program uses manipulative tools to provide opportunities & learning benefits such as cognitive development, emotional & physical skills. Come for a free trial lesson and learn more about our program!
Details:
Date: 1 to 24 March 2022
Age: 3 - 6 Years Old

Contact Details:
Website: sg.mpmmath.com/JelicMain.html
Email: mpm_sghq@singnet.com.sg
Contact: 6253 8260

5. MPM Math



MPM Math - Free Preview
Establish a heuristic mindset to allow your child to solve challenging math questions systematically & critically. Come down to any of our 28 centres to find out more about MPM math! Contact us for a Free Preview this March!
Contact Details:
Website: sg.mpmmath.com/MPMmathMain.html
Book an Assessment: sg.mpmmath.com/BookAssessment.php
Email: mpm_sghq@singnet.com.sg
Contact: 6253 8260

6. The Learning Lab



With a myriad of stimulating activities specially developed for every specific level, our Holiday and Special Programmes provide a platform for your child to explore their passions, build on key knowledge, cultivate new skills and give their revision a turbo boost during the holidays.

The Learning Lab Holiday and Special Programmes
a. Primary 3 GEP Excellence Programme
b. Primary 5&6 Composition Excellence Programme
c. Primary 4-6 English/Mathematics/Science Intensive Revision

Details
Date: 14 March - 18 March 2022
Location: United Square (may opt to attend lessons online)

Contact Details:
Email: enquiry@thelearninglab.com.sg
Contact: 6733 8711

Find out more HERE

7. Julia Gabriel Centre



Julia Gabriel Centre Open House - Free Trial

We focus on the strengths of each child, ensuring they feel engaged, motivated and inspired by every experience. Whether interacting with puppets, performing original dramas or exploring self-expression through a host of arts-based activities, a world of wonder and potential awaits.

Head down to Julia Gabriel Centre Open House on the 19 March from 9 am to 4pm to learn more about their programmes.

Sign up for a free trial HERE

8. Gymptopia



Gymtopia is a specially curated in-house programme designed by Kiztopia. The programme sets the foundation of gross and fine motor skills through fun play. Kids develop critical thinking skills with focus on life's core values by exposing the child to various sports. Sign up now!

Details
Date: 12 April - 7 June 2022
Location: Marina Square, Jurong Point, Punggol
Age: 4 to 7 Years
Number of lessons: 8 lessons over 8 weeks
Duration: 1.5hrs per lesson

Contact Details
Email: learn@kiztopia.com

Marina Square Branch: Sign up HERE
Jurong Point Branch: Sign up HERE
Punggol Branch: Sign up HERE

B) PRESCHOOL PROGRAMMES & ACTIVITIES
1. Little Footprints


Open House
Enjoy up to $3,000* savings on school fees and 50% off registration fees.
Looking to enrol your child in a preschool that offers quality learning experiences and prepares him/her for the schooling years ahead? Head down to their Open House on 19 and 26 March 2022 from 9am to 1pm to find out more about their curriculum!

REGISTER NOW