Ask the baby and parenting experts and get answered in this 3-day Q&A session, 18 - 20 June 2021.
Ask The Baby and Parenting Experts (18 - 20 June)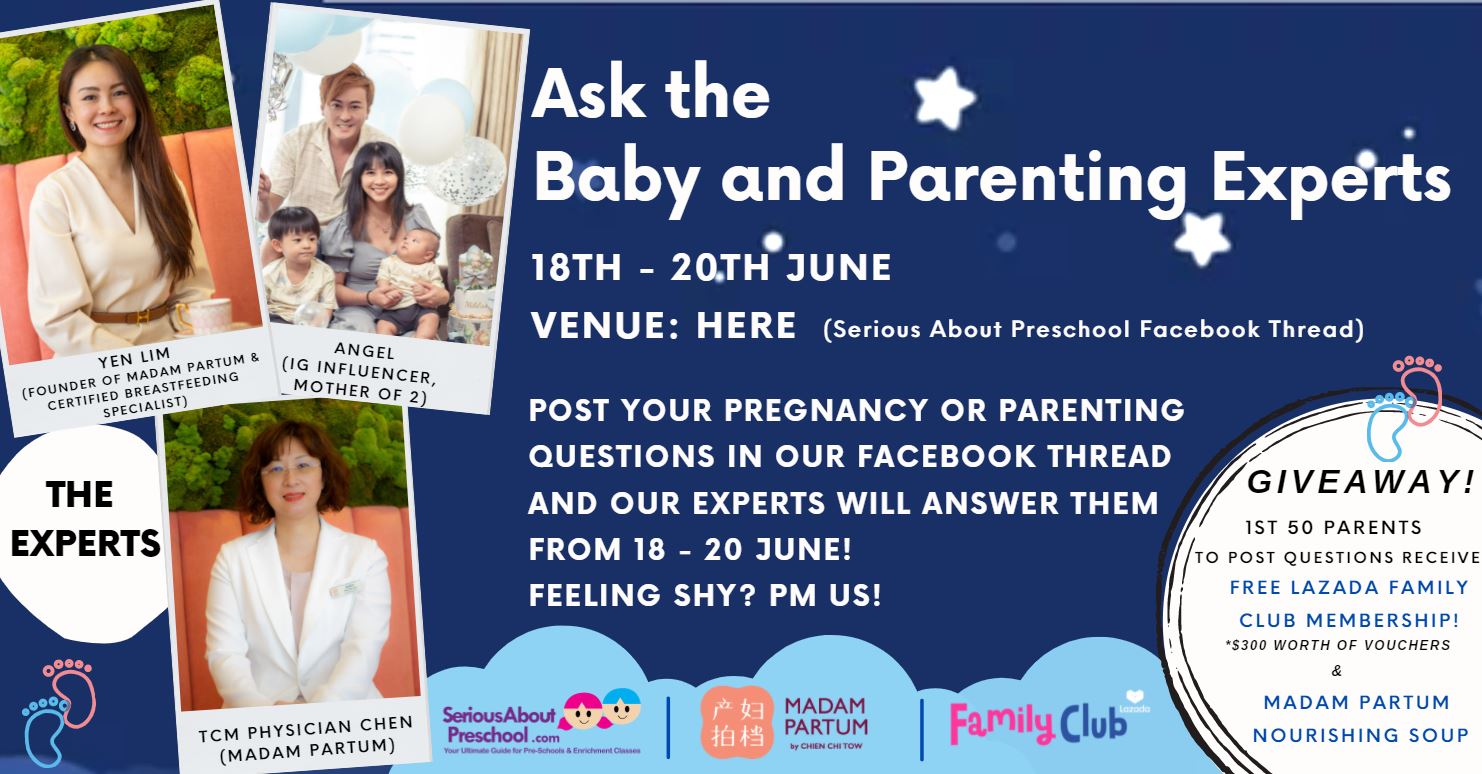 Need advice on pregnancy, post-partum, caring for newborns or simply parenting? We have invited 3 experts to answer them and share their experiences with you! Post them on our Facebook thread NOW and they will be answered from 18 - 20 June to get an immediate response!
Missed the chance to post your mind-boggling questions about your pregnancy and parenting journey? Ask the Baby and Parenting Experts is back by popular demand!

This time, Serious About Preschool has invited Madam Partum and Instagram influencer Angel Neo (@misslepetite) to standby for a 3-day Q&A session, where we answer everything you have ever wanted to know as a parent! So post away NOW and they will be answered from 18-20 June!

Date: 18th - 20 June 2021, Friday - Sunday
Venue: HERE (Serious About Preschool Facebook thread)
Post your pregnancy or baby questions in our Facebook thread NOW and our experts on standby will answer them from 18 - 20 June! Feeling shy? Simply PM us!

You can ask:

The Experts:
Yen Lim (Founder of Madam Partum, Certified Breastfeeding Specialist)


Ms Yen Lim, a Certified Breastfeeding Specialist, who is also the Founder of Madam Partum, founded Madam Partum in 2017 while she was pregnant with her first child. It was a calling for years thereafter, which led to herself building the perfect sanctuary for mommies and their loved one with a one-stop solution, not just about providing care and relief but the continuous education and awareness of what you need to know, setting apart myths from facts about pregnancy and confinement practices. "Our programme is not just purely TCM-based, but it also includes research in other medical arena so as to provide a more holistic approach."
TCM Physician Chen (Physician from Madam Partum, specialises in Fertility and Lactation)




TCM Physician Chen Pei Ling is an Accredited and Certified Professional member with Traditional Chinese Medicine Practitioners Board (Singapore). Being patient and attentive in providing pre- and post-partum, to lactation care to mums, TCM Physician Chen has over the years gain the trust from her patients with compliments. Her specialty interest is in Lactation and Fertility had continue to allow her to dedicate and deepen her relationship with her patients to support them through the parenthood journey over the years.

About Madam Partum
Madam Partum is the leading Pre- and Post-partum wellness and confinement care specialist. Backed by Chien Chi Tow, a renown heritage TCM brand of over 50 years in Singapore, Madam Partum harness the effectiveness of meridian massage (Tuina) to help mummies achieve a complete & wholesome recovery through a series of holistic programme. Madam Partum also offers baby massage services.

Angel Neo (Instagram Influencer and Mother of 2)




Hello everyone! My name is Angel and I'm a full time working #IVFMummy! My elder son, Lucas is an IVF baby who just turned 3 in May. We were also truly blessed to have conceived his little brother, Miklas naturally and gave birth in January this year!

Everyday is a hustle and I'm lying if I say parenthood is not tiring! You gotta know once you sign up to be a Mother, 24/7 is the only shift they offer. It is hard but is the most wonderful, rewarding, messy, noisy and crazy journey and it's all worth it!

I am really happy to be given the opportunity to share my experiences and hopefully I can be of help to all the Mummies and Mummies-to-be out there!

GIVEAWAY
The first 50 parents who share their questions on our Facebook Thread will receive nourishing soup from Madam Partum AND Lazada Family Club Membership!

1. Lazada Family Club Membership




We will be giving away 50 memberships to Lazada Family Club (*more than $300 worth of product discounts) for the first 50 parents who share their concerns! Lazada Family Club is an annual membership that allows parents to save big! Enjoy $300 worth of monthly vouchers on all your parenting needs - from diapers, formula, personal care, lifestyle and accessories across a range of market-leading brands. All expecting mummies also receive a complimentary welcome gift.

To find out more, visit Lazada Family Club.

2. Madam Partum Soups


Are you pregnant or breastfeeding? Choose between one Madam Partum Pre-partum nourishing soup, worth $8 or one Green Papaya Pro-Lactation soup worth $10 each!

To find out more, visit Madam Partum.

How to receive the giveaways:
1. Share your questions and concerns HERE
2. Simply fill up this Form
3. Follow and Like Serious About Preschool Facebook Page!

Simply post any questions you have here on THIS thread on Serious About Preschool Facebook or PM us directly!