Ask the baby and parenting experts and get answered in this 3-day Q&A session, 22 - 24 Sep 2021
ASK THE BABY AND PARENTING EXPERTS (22 - 24 September)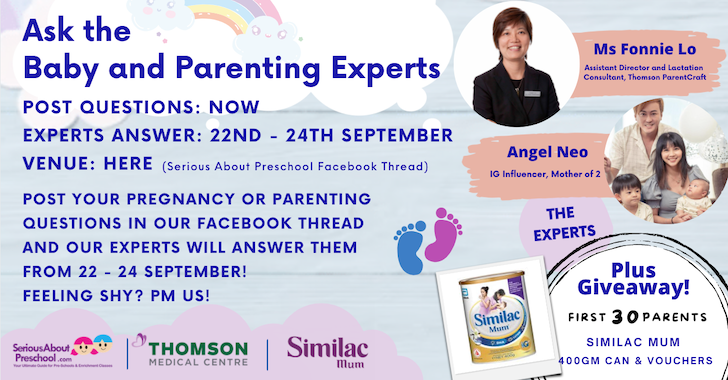 Need advice on pregnancy, post-partum, caring for newborns or simply parenting? We have invited experts to answer them and share their experiences with you! Post them on our Facebook or Instagram NOW and they will be answered from 22 - 24 September!
Ask the Baby and Parenting Experts (September 2021)
Missed the chance to post your mind-boggling questions about your pregnancy and parenting journey? Ask the Baby and Parenting Experts is back this September by popular demand!

This time, Serious About Preschool has invited Thomson Parentcraft and Instagram influencer Angel Neo (@misslepetite) to standby for a 3-day Q&A session, where we answer everything you have ever wanted to know as a parent! So post away NOW* and they will be answered from 22 - 24 Sep!

When to Post: NOW*
Read Answers: 22 - 24 September 2021, Wednesday - Friday
Venue: Facebook or Instagram
Post your pregnancy or baby questions on our Facebook thread or Instagram NOW* and our experts on standby will answer them from 22 - 24 September! Feeling shy? Simply PM us!

* Due to the usual overwhelming responses for these sessions, the expert may not be able to answer all questions submitted. Hence post early to get priority for them to be answered!

The Experts:

Ms Fonnie Lo
(Assistant Director and Lactation Consultant, Thomson ParentCraft)




Ms Fonnie Lo is a registered nurse and midwife. She has more than 20 years of experience in taking care of mothers and their newborns. She has been a Lactation Consultant (IBCLC) and ParentCraft Consultant for more than 15 years. She is also a member of The Association for Breastfeeding Advocacy (Singapore).

About Thomson ParentCraft
Thomson ParentCraft services help expectant and new mothers enjoy their experience during pregnancy and after delivery. We provide homecare services, infant care training programmes, childbirth education courses, breastfeeding consultations, weaning classes and more.

Angel Neo
(Instagram Influencer and Mother of 2)




Hello everyone! My name is Angel and I am a full time working #IVFMummy! My elder son, Lucas is an IVF baby who just turned 3 in May. We were also truly blessed to have conceived his little brother, Mikias naturally and gave birth in January this year! Everyday is a hustle and I'm lying if I say parenthood is not tiring! You gotta know once you sign up to be a Mother, 24/7 is the only shift they offer. It is hard but it is the most wonderful, rewarding, messy, noisy and crazy journey and it's all worth it! I am really happy to be given the opportunity to share my experiences and hopefully I can be of help to all the Mummies and Mummies-to-be out there!

GIVEAWAY ALERT!!!
We are giving away COMPLIMENTARY Similac mum 400gm can and vouchers, courtesy of Abbott, to the first 30 parents who share their questions on our Facebook Thread or on our Instagram post and fill up the form. First come first serve.




Similac Mum is the maternal milk that is scientifically studied among pregnant and breastfeeding mothers. Similac Mum now has an improved EyeQ Plus nutrition system with Natural Vitamin E & Lutein, along with DHA, a building block for your baby's brain & eyes. Similac Mum is the lowest in fat and the most complete maternal milk with 27 essential vitamins and minerals, and prebiotic (FOS). Similac Mum is also a low GI maternal milk that is suitable for pregnant women with gestational diabetes.

How to receive the giveaways:
1. Share your questions and concerns here on our Facebook or Instagram
2. Simply fill up this Form
3. Follow and Like Serious About Preschool Facebook and Instagram Page

Simply post any questions you have here on THIS thread on Serious About Preschool Facebook or THIS post on Serious About Preschool Instagram, you can also PM us directly!​