Ask the baby and parenting experts and get answered in this 3-day Q&A session, 25 - 27 Aug 2021
ASK THE BABY AND PARENTING EXPERTS (25 - 27 August)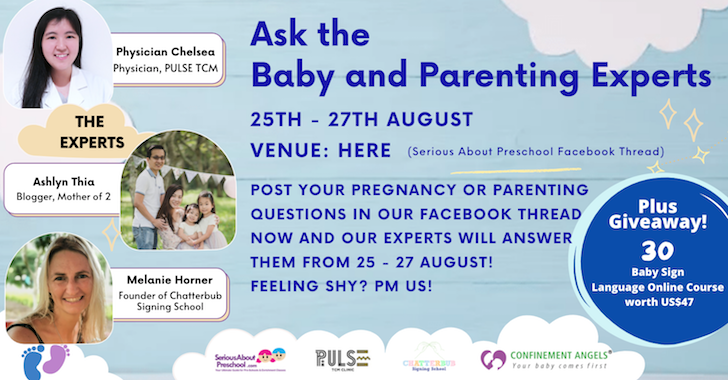 Need advice on pregnancy, post-partum, caring for newborns or simply parenting? We have invited 3 experts to answer them and share their experiences with you! Post them on our Facebook thread NOW and they will be answered from 25 - 27 August!
Missed the chance to post your mind-boggling questions about your pregnancy and parenting journey? Ask the Baby and Parenting Experts is back this August by popular demand!

This time, Serious About Preschool has invited PULSE TCM, Chatterbub Signing School, and Blogger and Mother of 2, Ashlyn Thia (@ashlynthia) to standby for a 3-day Q&A session, where we answer everything you have ever wanted to know as a parent! So post away NOW* and they will be answered from 25 - 27 Aug!

When to Post: NOW*
Read Answers: 25 - 27 August 2021, Wednesday - Friday
Venue: HERE (Serious About Preschool Facebook thread)
Post your pregnancy or baby questions in our Facebook thread NOW* and our experts on standby will answer them from 25 - 27 August! Feeling shy? Simply PM us!

* Due to the usual overwhelming responses for these sessions, the experts may not be able to answer all questions submitted. Hence post early to get priority for them to be answered!

The Experts:

Physician Chelsea (Physician, PULSE TCM)




Physician Chelsea's knowledge and passion for TCM grew as she witnessed the diversity of TCM holistic treatments as well as its effectiveness when East meets West. During her two years of internship at Dong Fang Hospital, Beijing, Physician Chelsea honed her skills and gained experience under the guidance of different mentors. Being a beneficiary of TCM herself, she can empathise with her patients and hopes to reach out to more people and share with them that TCM is more than its usual stereotypes like herbal tea and treating sprains.

About PULSE TCM
PULSE TCM was first established with the goal to harmonise a modern outlook with traditional TCM knowledge and techniques. Today, they are the modern TCM clinic in Singapore with 7 clinics located around town, as well as a dedicated foot reflex and pain management centre. Most of their physicians are local and bilingual and are trained in Biomedical Sciences.

Melanie Horner (Baby Sign Language Expert, Founder of Chatterbub Signing School)




Ms Melanie Horner, Founder of Chatterbub Signing School is on a mission to help parents through the toughest years of parenting with this empowering communication tool. Baby sign language makes parenting easier as it provides babies with a means of communicating before they can speak.

About Chatterbub Signing School
Chatterbub Signing School has launched the ultimate course for baby sign language, to teach parents and caregivers everything they need to know about signing. "Baby sign language helps parents understand their baby's needs faster and helps babies acquire language skills faster. Babies who sign can join the conversation from an early age and as a result are less frustrated and more confident." said Melanie.

Ashlyn Thia (Blogger, Mother of 2)




Ms Ashlyn Thia is a mother to 2 daughters - Avalyn (4) and Emmalyn (8). She shares her journey as a mostly doting wife and constantly challenged full time working mother. With many ups and downs, she present her life, faith, parenting, child, travel and crafting "adventures" on her blog and social media. Like how she have benefited from many sharing, she wishes that her personal sharing will bring some love, joy and hope around.

GIVEAWAY ALERT!!!
We are giving away COMPLIMENTARY baby sign language online course, courtesy of Chatterbub Signing School (pre-recorded, worth US$47) to the first 30 parents who share their questions on our Facebook Thread and fill up the form. First come first serve.




The Chatterbub How-To Guide for Baby Sign Language includes pre-recorded modules so parents can complete the course whenever they can fit in their busy schedule and there is no screen time required for the little ones. Parents can learn and then teach their babies, by incorporating signs into their daily routines and activities.

How to receive the giveaways:
1. Share your questions and concerns HERE
2. Simply fill up this Form
3. Follow and Like Serious About Preschool Facebook Page!

Simply post any questions you have here on THIS thread on Serious About Preschool Facebook or PM us directly!​