Ask the pregnancy and baby experts in this 5-day Q&A session, 26-30 April 2021.
Ask the Pregnancy and Baby Experts (26 - 30 Apr)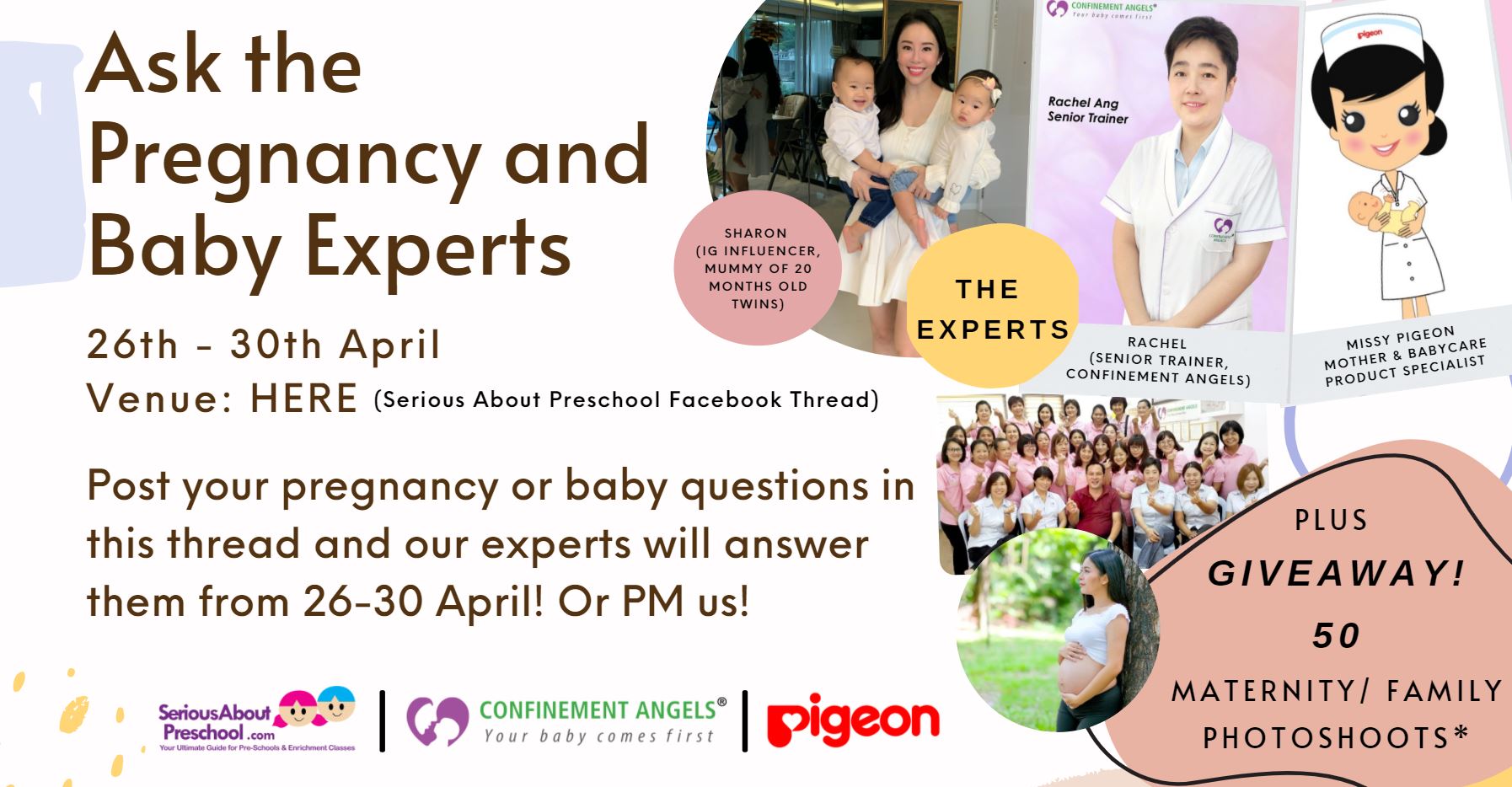 Need advice on pregnancy, confinement, caring for newborns or simply parenting? We have invited 3 experts to answer them and share their experiences with you! Post them on our Facebook thread from 26 - 30 April to get immediate response!
Ask the Pregnancy and Baby Experts
Filled with mind-boggling questions about your pregnancy and parenting journey?

Serious About Preschool has invited leading confinement nanny agency Confinement Angels, baby-product market leader Pigeon Singapore and prominent Instagram influencer Sharon Tang to standby for a 5-day Q&A session, where we answer everything you have ever wanted to know as a parent! So post away now!
Date: 26th - 30th April
Venue: HERE (Serious About Preschool Facebook thread)
Post your pregnancy or baby questions in our Facebook thread and our experts on standby will answer them from 26-30 April! Feeling shy? Simply PM us!

From 26 - 30 April, you can ask:
The Experts:
Rachel Ang (Senior Trainer, Confinement Angels)
The expert on every stage of the parenting journey from pregnancy to confinement and baby handling.




Sharon Tang (Influencer and mother of 20-month-old twins)
Hi my name is Sharon and I am currently a full-time mom with a pair of 20 months old twins. Used to run an Art Studio with hubby but sold the business after we had the twins. Becoming a mother has changed me dramatically and somewhere along this journey has made me feel completed. I also came to realise that Mothering is one of the most challenging, rewarding, uplifting, and frustrating experiences of a woman's life. I hope to be able to answer any questions other Mothers have to my best ability!


Pigeon
A panel of six experts, your go-to specialist for expertise and knowledge on baby products from Pigeon's brand.

Simply post any questions you have here on THIS thread on Serious About Preschool Facebook or PM us directly!

GIVEAWAY
We will be giving away FREE maternity/family photoshoots* to 50 lucky participants courtesy of Confinement Angels! Simply fill up this Form, Follow and Like Serious About Preschool and Confinement Angels Facebook Page!


*Courtesy of Confinement Angels. Simply fill up the giveaway form to participate!
*Photoshoot gift is only for parents redeeming it for the first time from Confinement Angels. Serious About Preschool and its partners have full discretion to reject any redemption or change/ cancel the prizes without prior notice or reason. Other terms and conditions apply.