Enjoy Father's Day Stories with Serious About Preschool!
Father's Day Stories for Kids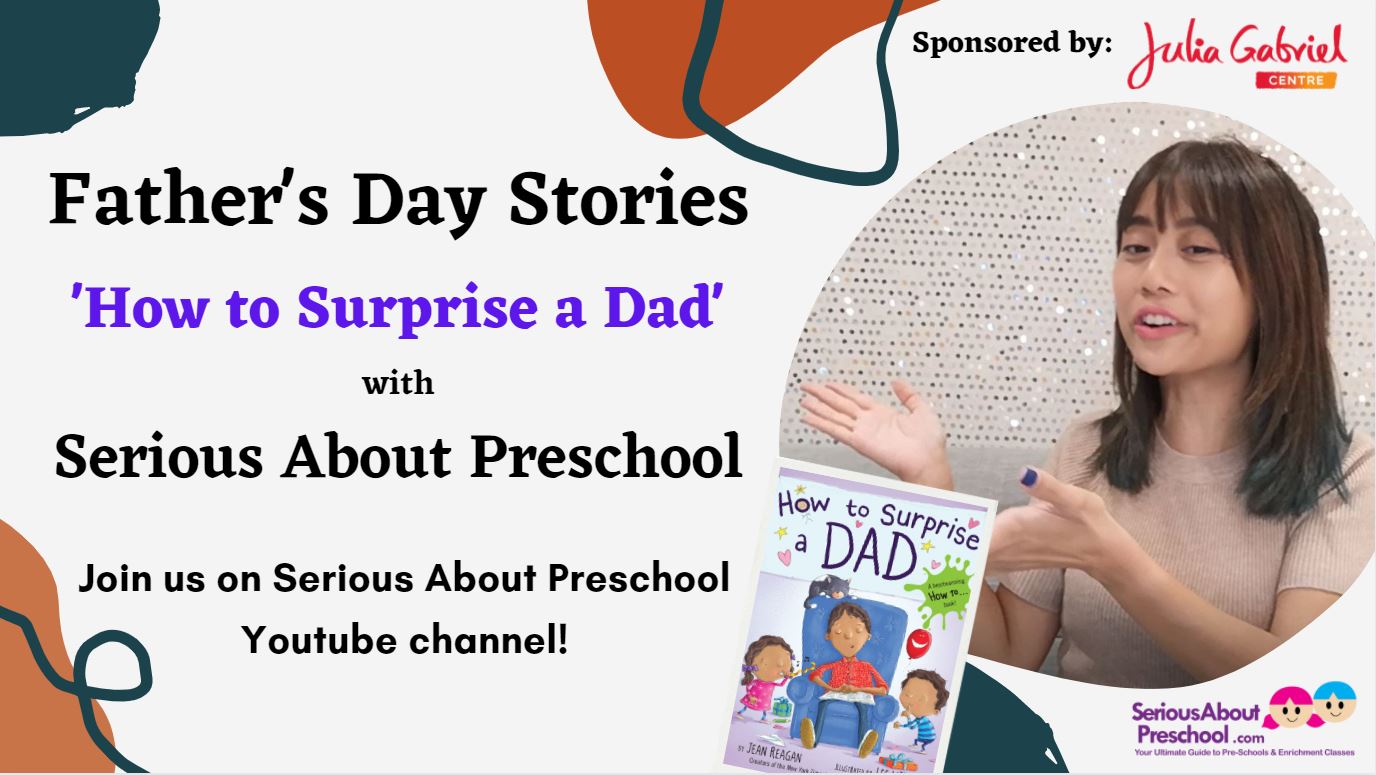 Join Serious About Preschool for an adventure of Father's Day Stories!
Father's Day, a day of celebration honouring fatherhood and paternal bonds, as well as the influence of fathers in society. This Father's Day, together with Julia Gabriel Centre, Chengzhu and Chiltern House Preschool, Serious About Preschool have prepared three Father's Day Stories! Join Ms Debs to uncover the journey of how children celebrate their Father's Day!

Join us to explore their stories




How to Surprise a Dad by Jean Reagan
Date: 26 May 2021, Wednesday
Time: 10 AM
Watch It Here: Facebook & YouTube

How to Surprise a Dad: So you want to surprise your dad? You're in luck! The pages of this book are full of tips on how to become a super dad surpriser, including tips for things you can make, do, or find—just for your dad.





The Berenstain Bears and the Papa's Day Surprise by Stan Berenstain and Jan Berenstain
Date: 29 May 2021, Saturday
Time: 10 AM
Watch It Here: Facebook & YouTube

The Berenstain Bears and the Papa's Day Surprise: It's Father's Day, and Papa thinks that Mama and the cubs have forgotten all about it . . . but they are actually planning something very special for him.





Giddy - Up, Daddy! by Troy Cummings
Date: 30 May 2021, Sunday
Time: 5 PM
Watch It Here: Facebook & YouTube

Giddy - Up, Daddy!: When rootin'-tootin' Daddy the "horse" is eyeballed by some rotten rustlers, it's all the kids can do to keep him out of the big lugs' lasso. What follows is a quick detour through a rodeo, a trip across a circus high wire, and a near-miss in the Rockies, till the kids don Mounty gear and capture the bad guys for good. A celebratory parade at sundown leads the kids and Daddy back home into Mom's waiting arms.

Explore the Schools here:

About Julia Gabriel:
Julia Gabriel Centre empowers students to communicate confidently through EduDrama®, a unique philosophy that entails learning within a positive and enjoyable environment, inspired by educators who are passionate about children, language and the arts. Age-appropriate activities enable students to express ideas through voice, speech, language, music, movement, art, writing, performance, debate and visual media, working towards Trinity College London awards at kindergarten-level and above.

About Chengzhu:
Chengzhu programmes and nurturing environment immerse students in Chinese language and culture, enabling them to develop a strong foundation in Mandarin and build the confidence to master the language – just as bamboo initially emerges as a fragile shoot and then grows tall and strong in fertile soil.

About Chiltern House Preschool:
By bringing together the warmth and security of home with the stimulating and immersive experience of their EduDrama® methodology, Chiltern House spell a dramatic difference in how we nurture a child's foundation. Engaging each child to explore and participate in their own way, Chiltern House inspire them to think independently and express themselves confidently.

Be sure to SUBSCRIBE to our YouTube Channel for weekly videos!