Enjoy two Hari Raya stories with Serious About Preschool!
Hari Raya Stories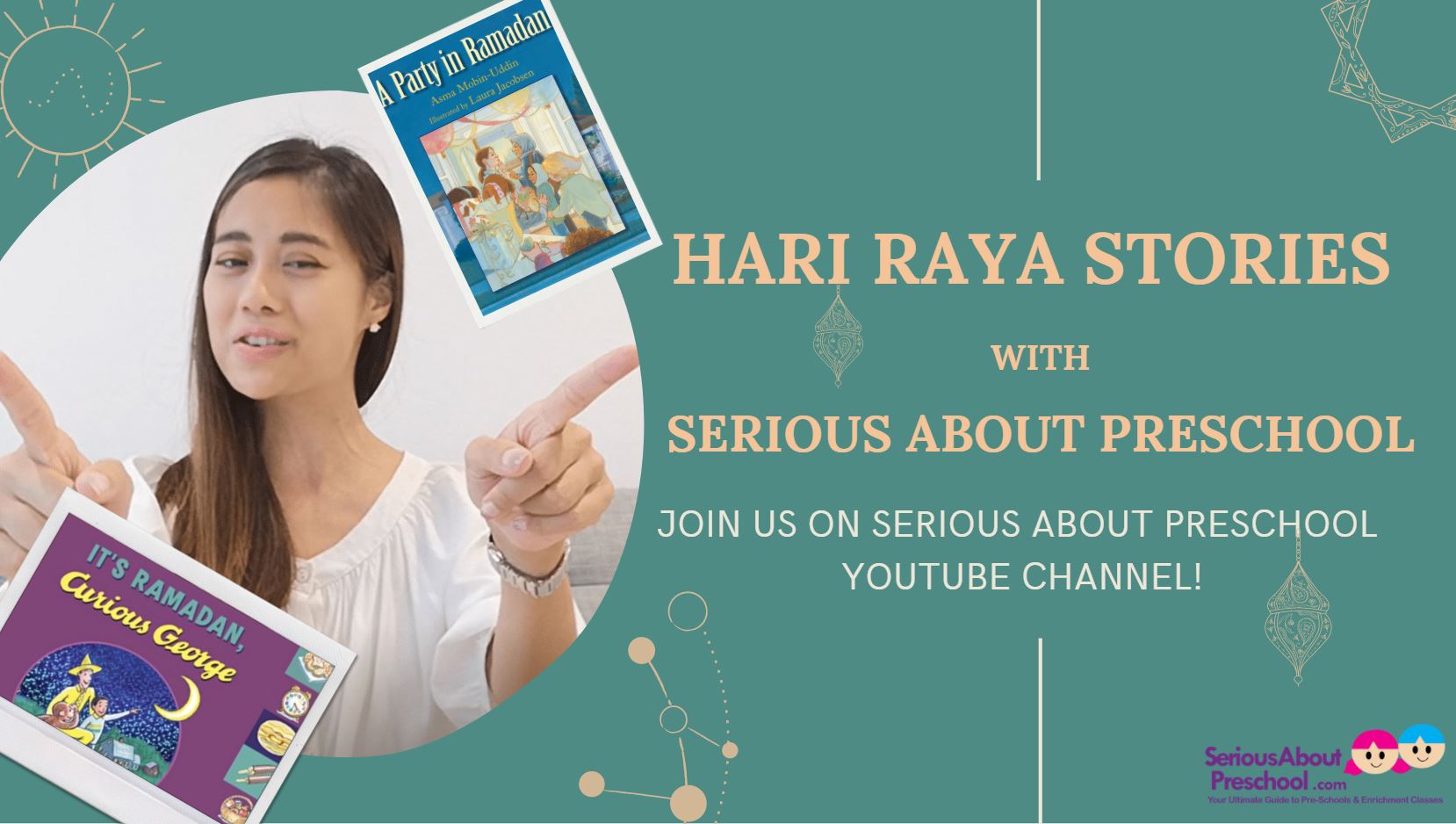 Join Serious About Preschool for an adventure of Hari Raya Stories!
Hari Raya Puasa marks the end of the fasting month of Ramadan. It is a time of forgiveness within the Muslim community and a time for strengthening of bonds among relatives and friends. The term 'Hari Raya' is Malay for "big (or grand) day of rejoicing". This Hari Raya, Serious About Preschool has prepared two stories, 'It's Ramadan, Curious George' and 'A Party in Ramadan'. Join Ms Debs to uncover the journey of Curious George learning about the Hari Raya traditions and Leena who is determined to do the right thing during her first Ramadan fast.

Join us to explore their stories
Date: 13 May, Thursday
Time: 10 AM
Watch it Here: Facebook & YouTube

YouTube Timeline:
It's Ramadan, Curious George - 00:33
A Party in Ramadan - 04:11

It's Ramadan, Curious George: It's the first day of Ramadan, and George is celebrating with his friend Kareem and his family. George helps Kareem with his first fast and joins in the evening celebration of tasting treats and enjoying a special meal. Then, George helps make gift baskets to donate to the needy, and watches for the crescent moon with the man in the yellow hat. Finally, George joins in the Eid festivities to mark the end of his very first Ramadan.

A Party in Ramadan: Ramadan is coming and Leena is excited. Although she is too young to fast every day during the Muslim religious festival, Leena decides to fast each Friday instead. When Leena receives an invitation to a party which happens to fall on Friday, she has a dilemma. She doesn't want to miss the party, but she doesn't want to miss fasting either. So Leena decides to go to the party, but not eat or drink anything at all. Later, she will join her family for the meal known as iftar, when the daily fast is broken. But when Leena, who is the only Muslim at the party, sees her friends enjoying fresh lemonade and chocolate cake, her stomach starts to growl and her head begins to hurt. Will she keep her Ramadan fast?

Be sure to SUBSCRIBE to our YouTube Channel for weekly videos!