Enjoy Kindness Story with Serious About Preschool & Kinderland!
Kindness Day SG - Kindness Story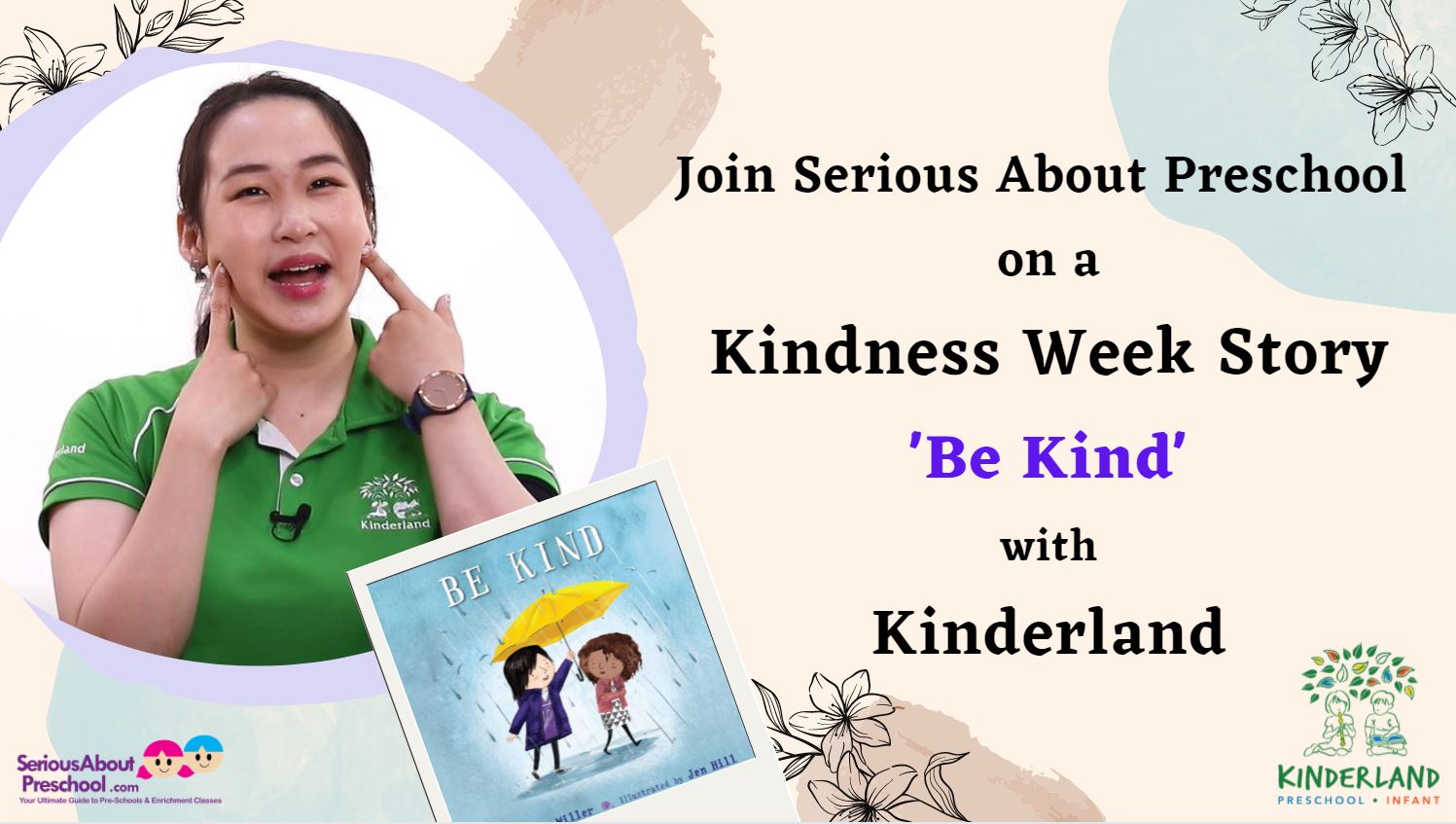 Singapore Kindness Movement
Celebrate Kindness Day SG
In celebration of Singapore Kindness Day, join Serious About Preschool and Kinderland on a story adventure 'Be Kind', to discover the journey of a child in exploring the meaning of kindness.

Singapore Kindness Movement, usually in May, is a movement that aims to encourage Singaporeans to make a real commitment to gracious living through simple acts of kindness in their daily activities. Join us in this movement with a story on kindness!

Kindness Story: Be Kind by Pat Zietlow Miller
Date: 22 May 2021
Time: 10 AM
Watch it Here: Facebook & YouTube

Be Kind: When Tanisha spills grape juice all over her new dress, her classmate contemplates how to make her feel better and what it means to be kind. From asking the new girl to play to standing up for someone being bullied, this moving and thoughtful story explores what a child can do to be kind, and how each act, big or small, can make a difference - or at least help a friend. With award-winning author Pat Zietlow Miller's gentle text and Jen Hill's irresistible art, Be Kind is an unforgettable story about how two simple words can change the world.

About Kinderland:
Kinderland, a member of Crestar Education Group, is a leading provider of quality infant care and bilingual preschool education for children 2 months to 6 years of age. Founded in 1978 with a mission to provide a quality music-infused curriculum that enhances language literacy for young children, Kinderland has unlocked the potential of over 100,000 children across the region through the keyboard, percussion instruments, solfege singing and rhythm training. Kinderland's music-infused curriculum enhances the cognitive development of the brain in a child's early years.

Be sure to SUBSCRIBE to our YouTube Channel for weekly videos!