Magic Tricks For Kids and Kids Magic Shows
27 June 2021
Announcement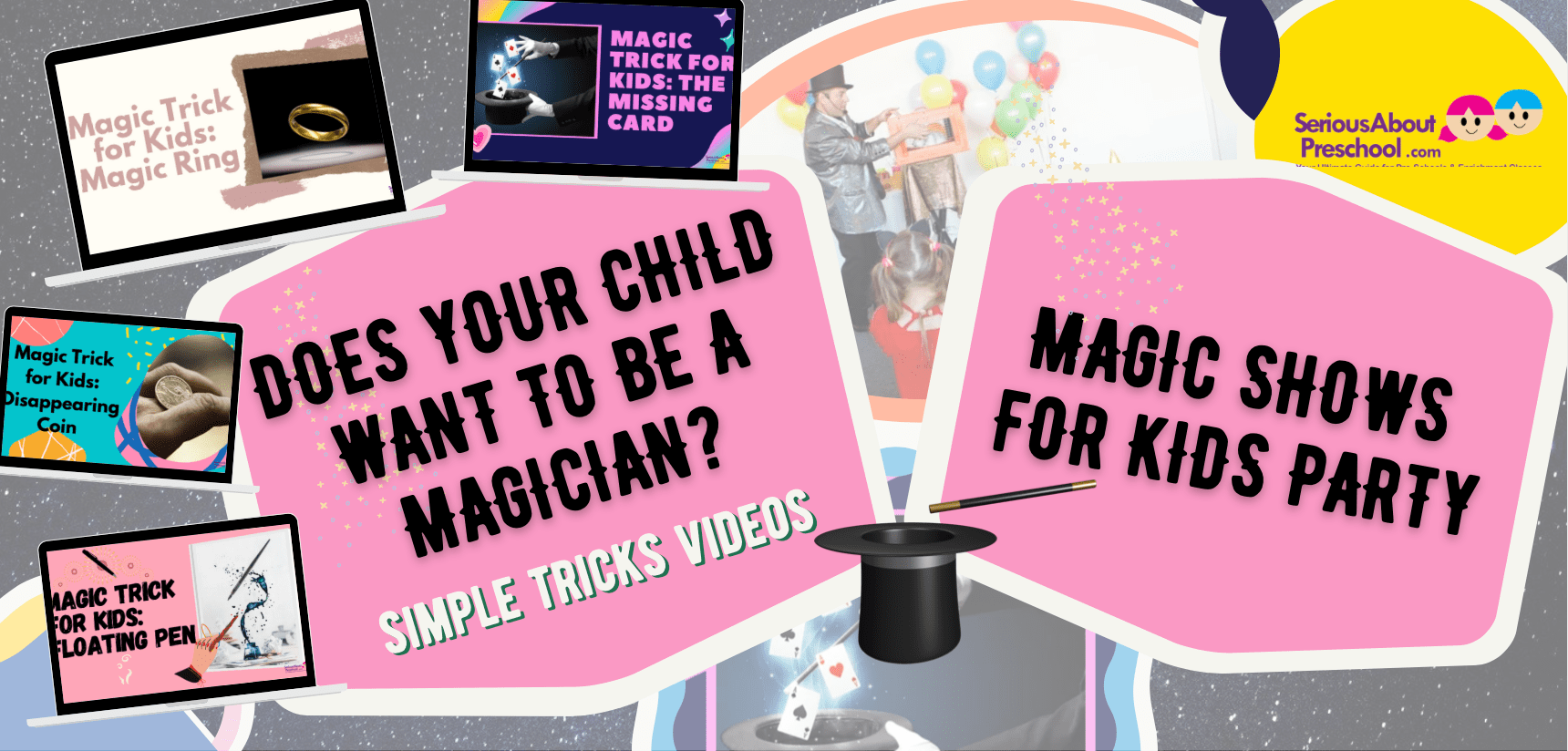 Do your kids love magic? Let them learn simple magic tricks from our 5 min video series and impress their friends or guests! Preparing for your child's birthday party and want to entertain your guests with amusing performances from the best magician for kids party that both you and your kids can enjoy! We have recommendations for you!
Magic Shows Singapore
Everyone needs that little magic in their lives! Magicians are not only to entertain children, but even adults of all ages! Kids are full of imagination and creativity and they are always curious with new things around them hence hiring a magician for kids party would make an excellent choice for your kid's birthday to keep your guests entertained and guaranteed to leave them with aching tummy and faces from all the laughing!

Looking for kids magicians to be at your party? Check out our reccomendations!

E Magical Moment

E Magical Moment is a Singapore-based events company that specializes in providing party entertainment for kid's parties. Having successfully carried out numerous kid's party, corporate & community events since 2011, they are committed to providing a valuable experience for you and your kids! From performances such as magic shows and interactive game hosting, E Magical Moment has everything that entertains your guests with their variety of party packages.

Their team consists of experienced, professional party entertainers who pride themselves on providing the party entertainment experience.
Cannot organize birthday parties due to covid restrictions? Fret not! The virtual magic shows from E Magical Moment brings you great fun for your gathering, meetings, and even virtual parties! Giving you the virtual magic experience with interactive and enjoyable magic act as if you are watching it live! What's even better is that you'll catch it in the comfort of your own homes and with your friends.

Contact Details
Phone: 8235 1615
Email: enquiry@emagicalmoment.com
Website: www.emagicalmoment.com
Easy Magic Tricks For Kids:
Kids are full of imaginations and wonders, hence they are always intrigued by the mystical magical world. For younger children, magic not only helps to build important life skills such as confidence and creativity but provides loads of fun and laughter too! We are releasing a series of 5 mins kid's magic trick videos on Serious About Preschool Facebook and Youtube to turn your aspiring child into Harry Potter effortessy! Watch, learn and impress your family and friends now!

Join us on our 5 min magic tricks for kids video series!

Magic Trick for Kids: Magic Ring
Watch It Here: Facebook & YouTube



Magic Trick for Kids: The Missing Card
Watch It Here: Facebook & YouTube



Magic Trick for Kids: Disappearing Coin
Watch It Here: Facebook & YouTube

Magic Trick for Kids: The Magnetic Pencil
Watch It Here: Facebook & YouTube



Magic Trick for Kids: The Vanishing Ball
Watch It Here: Facebook & YouTube



Magic Trick for Kids: Floating Pen
Watch It Here: Facebook & YouTube



Do you want to know how to make the invisible thread for the floating pen? Watch this video to see how!
Watch It Here: YouTube



Magic Trick for Kids: Disappearing Toothpick
Watch It Here: Facebook & YouTube



Magic Trick for Kids: Multiply Coins
Watch It Here: Facebook & YouTube