How the rewards system works?
To encourage a lively community and the joy of sharing amongst parents, we have a SeriousAboutPreschool (SAP) Rewards Points System in place to reward parents who contribute enrichment programs reviews, childcare centre reviews, attend trial classes/ term at partnering centres or even enquire for more information from the centres before making informed decisions on what to sign up for!

SAP Points will be awarded to members with the indicated actions in the table below. Earn points to exchange for rewards from our partners (check out rewards page on what is available).
Trial/ Signup with SAP Partner
Submit to us a trial class/ first term receipt from any partnering centre/ School and earn 2 points! Receipts must be submitted within 2 months from date on receipt; For first time student at the centre only. Check out list of SAP partners HERE. Submission of receipt by upload or email to SAP.
Write a Review
+ With Trial/ New Signup receipt from partnering centres within 2 months from date on receipt
++ Without any Receipt from SAP Partners.
Schedule School/ Centre Visits
Let us know which enrichment centre/ school partner you are keen to find out more info from or visit and we will refer/ link you up with them! Earn points from every successful link up through us and even if you did not sign up with the centre in the end!
Point Status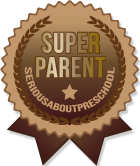 pts
Super Parent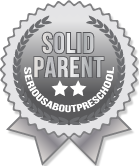 pts
Solid Parent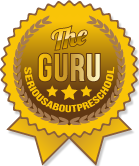 pts
The Guru
Book Trial Class | Sign up with a SAP Partner
If your child is a new student at a partnering centre, or school, not only will you be able to enjoy special SAP discounts, you will also earn 2 rewards points when you upload a receipt for a trial class or term booked at the centre (within 2 months from date on receipt)! Partnering centres are differentiated with a SAP purple badge.
Just print out the vouchers in the members only welcome pack and mention 'Serious About Preschool' upon booking of trial class/ term with a participating centre to enjoy special SAP discounts. After trial class, upload the receipt via your Serious About Preschool account to earn points within 2 months from its date! Please note that while you may attend more then one trial classes allowed by a centre, Serious About Preschool will only reward you once with points.
Refer to a sample trial class receipt here / trial term receipt here Please ensure that the receipt you upload does not exceed 400KB in size and the centre's company stamp, date and your child's name are clearly shown.
Write A Review
Contribute a review on your experience with an enrichment centre or a childcare centre to earn reward points! After your child has attended a trial class or has signed up from a partnering centre for the first time, not only will you earn rewards points from uploading the receipt (with centre's stamp) onto Serious About Preschool, you can use that receipt to write a review at the same time and earn another 2 rewards points! Without uploading receipt, you can still contribute by writing a review and earn 1 rewards point! Reviews have to be of a min 100 words.
Schedule a school tour | Centre visit through Serious About Preschool.
Let us know which enrichment centre/ school partner you are keen to find out more info from or visit and we will refer/ link you up with them! Earn points from every successful link up through us. Earn points even if you did not sign up with the centre in the end! Check out full list of partners HERE as well as the exclusive discounts they offer Serious About Preschool parents!
Contact Serious About Preschool to get linked up to earn points now: Contact US
* Successful link up refers to connection with partnering centres/ schools with genuine enquiries such as centre visit being scheduled, centre successfully contacted you to answer your enquiries etc. Each successful connection earns you 1 point. Maximum 6 points from the Explore/ Enquiries category are eligible for rewards redemption (you can earn more points from writing reviews, utilizing of partner vouchers too). For partners with more than 1 branch, only 1 point is awarded for that brand regardless of the number of branches visited. Point is earned even if you did not sign up for the course/ enroll in the end after the school visit/ enquiries, if it's a genuine enquiry**.
* Centres are not allowed to review their own programs. Reviews must be of a min 100 words with useful information for parents (eg structure of class, activities, teachers style etc) and not just on emotional or personal opinion of reviewer which will not benefit other parents much. Each reviewer is only allowed to submit a max of 5 reviews for their account and max 2 from the same centre. * Note: Serious About Preschool's role is to reduce the amount of time parents spend on internet research. As a result, all reviews need to go through an approval process by the committee in order to present the most constructive and helpful ones to avoid information overload. Useful but lengthy reviews may be subjected to editing for clarity. * Please note that SAP Rewards Points do not have any cash value. They are non-transferable and not refundable. SeriousAboutPreschool reserves the right to award, reject, amend or delete SAP points at its sole discretion and is not liable to give any explanation. ** It is at Serious About Preschool and the partnering centres' discretion in considering whether an enquiry is genuine or not. No dispute will be entertained. Scheduling of visit has to be through Serious About Preschool (inform Serious About Preschool before visiting and partners to be alerted by Serious About Preschool on your visit BEFORE your visit).
Redeem these rewards with your SAP Points!
Our Partners & Sponsors (More Perks Your Way!)