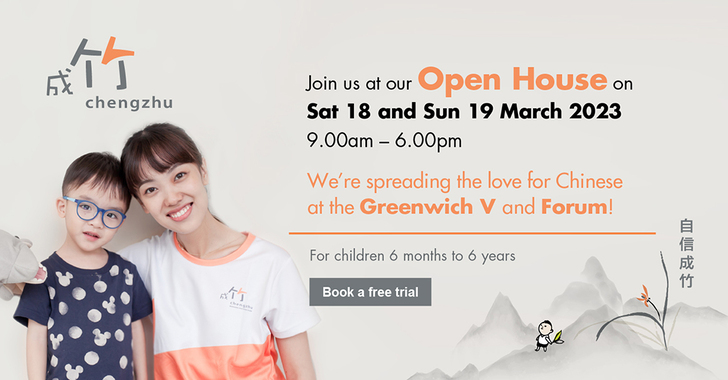 CHENGZHU MANDARIN CENTRE OPEN HOUSE 2023
It is time to give your child the right foundation in learning Mandarin before it is too late. This will help set your child up for success in school and life. Come and experience the Chengzhu difference today!
27 February 2023 - 19 March 2023
Chengzhu Mandarin Centre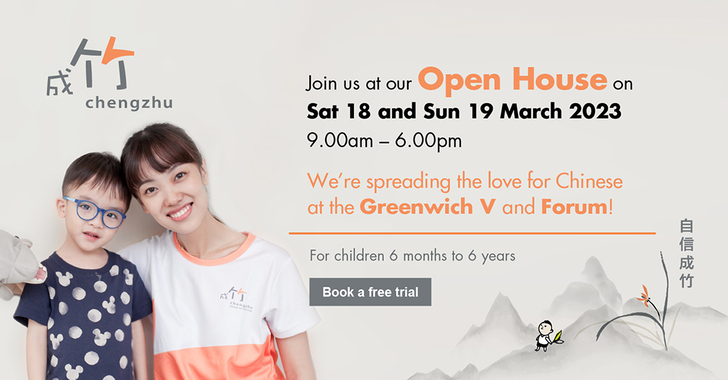 In addition to our centres at Rochester Mall and Forum, we are excited to announce the launch of a third centre at Greenwich V. Here, we will run programmes for children aged between 6 months and 6 years old. This means more opportunities for us to share our expertise in establishing the best Mandarin foundations for your child through our Early Learning Programmes and Foundation Years Programmes. Engaging and motivating children to learn Chinese in the most positive and creative ways is our strength, setting the stage for success in school and life.
Enjoy a registration fee waiver and up to 15% discount on programme fees for sign-ups during the Open House.
Click HERE to find out more about their programmes and book a free trial today!

Details
Date: 18 th & 19th March 2023
Time: 9am - 6pm
Age: 6 months to 6 years
Venue: Greenwich V | Forum
Location:
Greenwich V, Forum