Ace your way into Phase 2B for your child's Primary 1 Registration
How Primary 1 Balloting Works
26 January 2021
Primary 1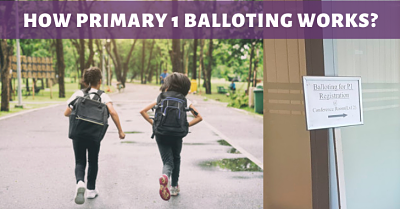 The Primary 1 Balloting Exercise is every parent's nightmare. It is a pure game of luck. However, parents can play a part in gaining extra chances in the balloting exercise. Unfortunately, many parents are unaware of the timeline to earn these precious chances. Read on, whip out your note book and pen down your to do list now before it's too late!
Which Phase and What do they mean?
Refer to the table below, if you have already fulfilled the requirements for Phase 1 to 2A2, you already gotten the golden ticket to your desired school for your child. Sadly, the majority of parents do not fall into these phases. But do not give up yet! It's important that you at least get yourself a seat in
Phase 2B
which gives you an extra chance for P1 balloting!
Phase 2C
is for the general public, i.e anyone who wants their child to get into the desired school. Here, priority is still given to those residing within 1km from the school should there be balloting.
How to get into Phase 2B
(assuming you are residing 1km from the school or already has a plan to be 1km from the school)
Fulfill any of the below requirements to be eligible for phase 2B registration:
Phase 2B criteria 1: How can I be a parent volunteer?
Parents who are volunteers of the school can be prioritized too! There are a number of service hours set by the school (usually 40) that parents have to complete at least one year before their child is due to register. Schools open their parent volunteer applications at different times so do call and email the school at least 1.5 years before your child's registration year to sign up for it! Most of the time you will be required to attend an interview conducted by the school if the number of applicants exceeded the number of vacancies for parent volunteers.
Phase 2B criteria 2: How can I join an affiliated organization?
Being a member of an affiliated organization can give your child a higher chance of entering the preferred school. An endorsement letter will be required in this case. For example, any Methodist church will be affiliated to the Methodist Schools and this list of schools are affiliated with the Singapore Hokkien Huay Kuan. Do call and check with the school which are the affiliated organizations at least a year before your child's registration year and ensure you are getting the endorsement letter from them 6 months before the registration date.
Phase 2B criteria 3: How can I join the grassroots
Call the People's Association office nearest to the school, tell them your intention, the school you wish to register for your child and enquire for the correct community (eg. The NC or RC makes a difference) you should be volunteering in at least 2.5 years before your child's registration year. You need a full 2 years of service as a grassroot member before you can receive a recommendation letter from the chairman.




What if your child is unsuccessful in registration?
If during any phase of the registration exercise your child is unsuccessful, do look out for the next phase that you are eligible for and proceed to register for your child.
However, if your child is still unsuccessful in Phase 2C Supplementary, he or she will be posted to a school with available vacancy and you will be informed of the outcome through SMS.
Does Distance from your home to the desired school matter?
YES! Location of your home is EVERYTHING!
It is a given that you MUST FIRST be staying 1km from the desired school, before you consider earning your entry into phase 2B.

Although priority admission will be given in the below order in the event there is an oversubscription for a phase, it's unlikely that you stand a chance to ballot in phase 2B for top schools if you are located beyond 1km from it, as most of the time, the quota is exceeded with the number of residents within 1km for that phase (and fulfilled phase 2B criteria). If you stay beyond 1km, you do not stand a chance to ballot even if you are a Singapore citizen/ Permanant Resident who had fulfilled phase 2B criteria!
Singapore Citizens living within 1km of the preferred schoolSingapore Citizens living between 1km and 2km of the preferred school

Singapore Citizens living outside 2km of the preferred school

Permanent Residents living within 1km of the preferred school

Permanent Residents living between 1km and 2km of the preferred school

Permanent Residents living outside 2km of the preferred school
Not going to move near to the school, any alternatives?
Another alternative is if your parents or your child's caregiver stay near the school and you use their address through a declaration. However, you can only make a declaration if you meet the following conditions:
Both you and your spouse are both working full-time

Your child is under the care of a caregiver
Your chances are of course still based on your distance from the school. Hence if you are not within 1km of the school, prepare yourself for the disappointment of not being able to join the ballot.
Start Your Home Search Now!
We cannot emphasize enough how important it is to stay 1km within the vicinity of the desired school! Without the address, fulfilling the requirements in Phase 2B is fruitless.




Important Timeline!
Looking for New Launch:
Start your house search at least 4 years before your child's registration year (the June before he/ she turns 7) if you wish to purchase a new launch with TOP date in time for registration.

Looking for Resale Homes:
Start your house search 1 year before your child's registration year (the June before he/ she turns 7).

Looking to Rent:
Start your house search 6 months before your child's registration year (the June before he/ she turns 7).

Kickstart your home search with Home N School!
Let the professionals take the 1km worry out of the way of your P1 registration!
Refer to the House Search Timeline table above, depending on your preference, do not miss the dateline to fulfill it. Without fulfilling the location requirement, fulfilling requirements for phase 2B becomes fruitless! Let Serious About Preschool's preferred housing consultant partner: Home N School help you!

Home N School is a network of preferred partnering property consultants who are also experienced parents in P1 registration matters. Being parents themselves, they are experienced and specialized in housing matters for families. Whether it's looking for your dream home in preparation for your child's P1 registration, selling your property to relocate to another or looking for investment properties for your family, the team from Home N School will be your ultimate choice to help you!
Fill up the FORM, *Home N School will be in touch and will be accompanying your home search or sale journey till the end!
You will receive a P1 welcome pack for your child and enrichment advices upon successful acquisition of your dream home near your desired school!

Take the first step, fill up the FORM now!
Alternatively just drop an EMAIL with your enquiries and we will get back to you.

Website: www.sghousings.com
The Team: www.sghousings.com/meettheteam