Julia Gabriel Centre at The Woodleigh Mall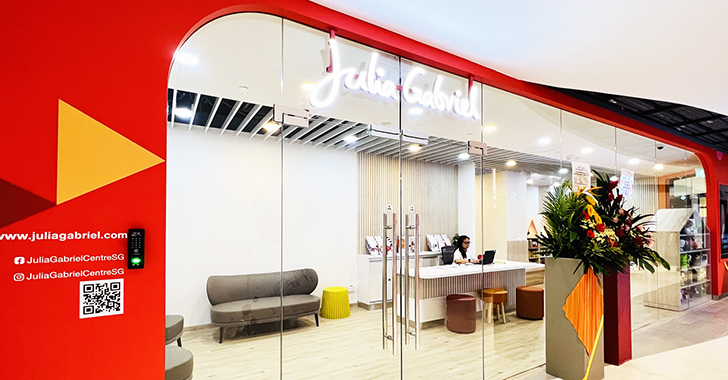 Dedicated to developing every child's potential, Julia Gabriel now has a beautiful new centre at The Woodleigh Mall. In line with this stunning state-of-the art property, the latest Julia Gabriel Centre offers everything customers have come to expect from Singapore's original speech and drama centre.
Julia Gabriel Centre - New Centre at The Woodleigh Mall
Julia Gabriel Centre at The Woodleigh Mall runs award-winning enrichment programmes for children from six months to six years. Programmes are delivered through EduDrama®, a unique teaching methodology that empowers strong communication skills and life skills. A key feature of EduDrama is the emphasis it places on stimulation, motivation, individual attention and encouragement in a positive, creative, pressure-free environment. Students further benefit from the warmth, dedication and passion of specialist educators who facilitate learning whilst focusing on the strengths of each individual child.

Programmes currently on offer at The Woodleigh Mall:
PlayNest 6 - 18 months
Feeling safe and secure is paramount to your child during the foundational stages of their learning journey. This accompanied programme supports infants through their sensory, social, emotional and language development in the most nurturing environment.
PlayClub - 18 months - 3 years
As toddlers gain the confidence to explore more widely, PlayClub is all about fostering growing self-control and autonomy, whilst continuing to develop confident language skills. This dynamic programme for children and adults serves as a bridge between home and school as everyone enjoys a range of interactive, dramatic and highly creative tasks together.
Speech & Drama N1 - K2
Specialist educators guide young children through stories, music and movement, drama and games, moving on to quality age-appropriate literature as they progress to kindergarten level. Taking advantage of children's natural curiosity and imagination, language-in-action takes centre stage throughout all levels, ensuring that learning is always natural and engaging. Children build confidence, independence and expressive communication skills.

Kindergarten 2 students work towards Trinity College London's Young Performers Certificate, enabling them to develop cooperation, collaboration, creative and communication skills through process drama.
Readers & Writers N1 - K2
At nursery levels, children develop reading readiness through participation in drama activities based on Julia Gabriel's Alphabet Zoo book. As they make connections between letters and sounds and increase their vocabulary, they are invited to explore language creatively, developing all the skills required to become interested and successful readers. As children progress to kindergarten levels, they develop reading and writing skills through experiential learning, under the close guidance of their teacher. From comprehending different text types, to employing various grammar techniques with confidence during writing activities, students discover their own reading, writing and expressive speaking styles.

If you are keen for your child to benefit from Julia Gabriel's 30 years plus experience of running quality creative communication programmes, visit their new centre at The Woodleigh Mall or contact them for more information.

To learn more about Julia Gabriel Centre programmes at The Woodleigh Mall contact +69938851 or email enquiries@juliagabriel.com

For more information, visit HERE