Julia Gabriel New Centre
07 July 2022
Announcement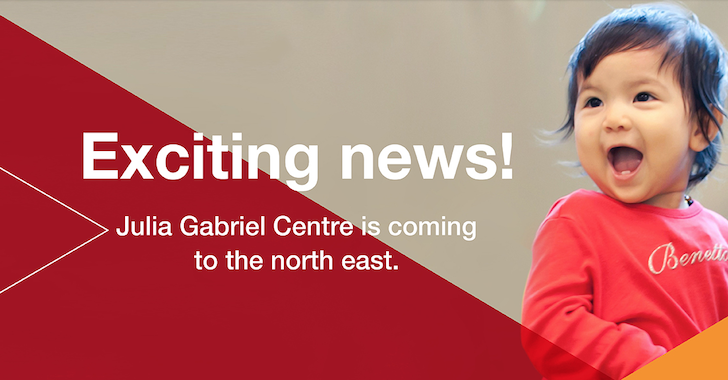 Julia Gabriel Centre is growing and we would love you to grow with us!
Julia Gabriel New Centre
We are excited to announce the launch of our new centre in Greenwich V. Opening in September 2022, the centre will cater to children from 6 months to 6 years old. We will offer a variety of our core programmes in English, in addition to several programmes from Chengzhu Mandarin Centre.

Be the first in line to register your child for our new centre, we are excited to grow and we invite you to grow with us! Secure your child's place today by calling 6733 4322 or emailing us at enquiries@juliagabriel.com.

English Programmes
1. PlayNest (6 months – 18 months)
Feeling safe and secure is paramount to your child during the foundational stages of their learning journey. That's why accompanied programmes during the very early years are so meaningful. Support your child as we guide you both through their sensory, social, emotional and language development in the most nurturing environment.
2. PlayClub (18 months – 3 years)
As toddlers gain the confidence to explore more widely, PlayClub is all about fostering growing self-control and autonomy. This dynamic programme for children and adults serves as a bridge between home and school as we all enjoy a range of interactive, dramatic and highly creative tasks together.
3. Speech & Drama (Nursery 1 & 2)
Our specialist educators guide young children through stories, music and movement, drama and games, with language-in-action as the focus of this inquiry-based programme. Learning becomes as natural and engaging as play as children develop confidence, independence and expressive communication skills.
4. Speech & Drama (Kindergarten 1 & 2)
Quality age-appropriate literature (both poetry and prose) take centre stage in our Speech & Drama programme for kindergarteners, as activities inspire their creative and cognitive processes. Kindergarten 2 students work towards Trinity College London's Young Performers Certificate, enabling them to develop cooperation, collaboration, creative and communication skills through process drama.

5. I Love Reading (Nursery 1 & 2)
Children develop reading readiness through participation in drama activities based on the Alphabet Zoo book. As they make connections between letters and sounds and increase their vocabulary, they are invited to explore language creatively, developing all the skills required to become interested and successful readers.
6. Let's Read and Write (Kindergarten 1 & 2)
Every child receives close attention from their class educator as they develop their reading and writing skills through experiential learning. From comprehending different text types, to employing various grammar techniques with confidence during writing activities, students discover their own reading, writing and expressive speaking styles.

Mandarin Programmes
1. PlayNest (6 months – 18 months)
Babies and toddlers absorb Mandarin naturally as they enjoy a series of high energy language-rich activities along with their accompanying adult.

2. PlayClub (18 months – 3 years)
Children explore and discover in increasingly independent ways, facilitated by our lively and expert language role-models, who introduce key concept words and phrases through stories, puppets, drama activities, art and craft and songs. Every activity, including for example snack time and free play, is also an opportunity to develop cognitive, social, emotional and physical skills, as children learn to share, take turns, accept and manage emotions.
3. Language Learners (Nursery 1 – Kindergarten 2)
At each level, children enjoy tasks that develop the four components of language learning – speaking, listening, reading and writing. Creative activities include drama, storytelling, music and movement, art and craft and reading. Children progress from learning to write Chinese characters, mastering the correct sequence of strokes, to constructing full sentences as they develop their creative writing abilities.

Find out more HERE